jockey.com is the online shopping store of Jockey Inc. – a manufacturer, distributor and retailer of underwear and sleepwear for men, women and children. Having invented the first ever men's Y-front brief in 1934,  the word "jockey" or "jocks" has now entered the lexicon as a generic term for mens underwear.
Product Range (3/5)
If you wear it under your clothes or to bed Jockey will sell it – from bras and boxers to hosiery and socks. They also sell a range of T-Shirts and sportswear.
Jockey have patented their "Non-Padded Comfort Wire Bra". Potential customers should note that Jockey uses their own sizing that may not translate to other brands.
Website (4/5)
jockey.com was launched in 1999 and now attracts around 600,000 visitors per month.
It's a slick website with an excellent product interface.
There is an implicit assumption that you'll know the name of the style you're searching for which can make navigating the site a bit hit and miss.
However, once you get to the to the product page, this website really stands out.  All products are modelled from different angles and from close-up, and, on some products you can watch a video.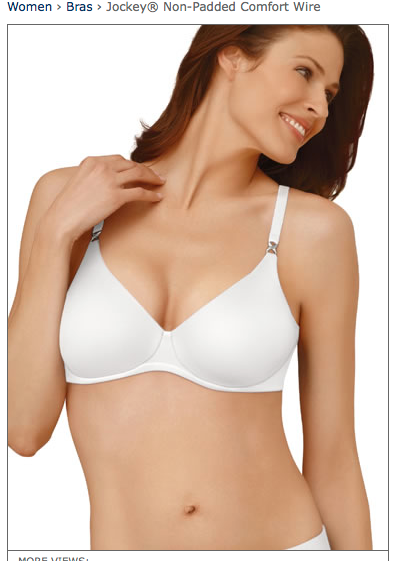 Visitors can also change the color of the product and have the photo update with the new color.
There are lots of customer product reviews (the bra on the left had 227) and a great customer-run question and answer section.
When you elect your color, size and quantity you will immediately be informed if the product is in stock, where you can then easily add it to your shopping bag.
At checkout you are reminded about how much more you need to spend in order to receive free shipping (see below) – a neat sales trick, but quite useful for the savvy stay at home shopper.
Jockey.com is certainly one of the best designed websites that stayhomeshopping.com has reviewed.
Shipping (2/5)


Standard ground shipping is $7.
Jockey.com offer free ground shipping on all orders over a (rather high) $75 and a discount of $7 off UPS, 2day and next day rates.
International shipping is available to Canada through International Checkout. Jockey.com do not ship to other international destinations, though Jockey run independent websites in over forty countries worldwide.
Rewards Program (4/5)
Jockey Rewards is a simple, clean and relatively generous rewards system. Members earn 1 point per $ spent, with a $10 voucher on offer for every 100 points earned, delivering an effective 10% cash back.
Higher rewards can be earned during special promotions.
Members who spend $200 within a calendar year will receive VIP membership for the following calendar year. VIP members get 10% off all merchandise (excluding tax and shipping) and free standard ground shipping, regardless of the order size.
Customer Service and Returns (4/5)
It was difficult to pin down the exact returns policy other than a generic "if you need to return a product, you can start the process her…"
However, all orders come with a postage-paid return sticker so that all returns are free.
Furthermore, all returns are immediately credited, rather than having you send in the product, do the exchange and then ship your new order.
If you order a "Fit Kit" and don't like it – you don't even have to return it to get your money back. We like that!