Loudmouth Golf is an American sportswear company known for their 'flamboyant' apparel.  Once you've seen their clothes, you'll not easily forget them. Loud indeed!
From their website, they explain:
We all grew up watching Johnny Miller in his shocking red pants and white belt, and Jack Nicklaus sporting his plaid polyester Sans-A-Belts. But when the time came for us to golf decades later, what sartorial choices were we given?  Khaki. Gray. Black. Where was the fun in that?!
Loudmouth Golf will not be for everyone's taste, but stayhomeshopping is delighted to review and give a big thumbs up to the company – and to all their brave customers.
Loudmouth Products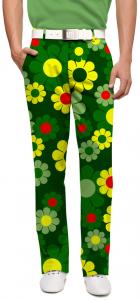 Loudmouth sell men's and women's sportswear, including shorts, pants, sports coats, polo shirts and wind shirts. You can either order pre-made or made-to-order.
And yes, they're loud. But what about the quality?
When this reviewer tried on a pair of shorts and a polo shirt (at home, mind you), I was actually pleasantly surprised at just how damn comfortable they were. I mean, I probably expected a gimmicky shirt and shorts would have..well… "gimmicky" quality.  Instead, in terms of fit, the shirt was perfect, and the shorts were really comfortable too.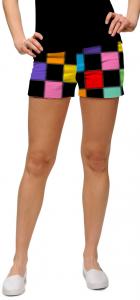 Once my wife was over laughing at me, she actually sat down and looked online through the catalogue. Loudmouth has plenty of women's clothing…and you don't have to be a golfer either.  The shorts on the right look pretty cool, yeah?
My wife was also taken by the some of the sports coats and there could be a big order coming Loudmouth's way soon, I'd expect.
Made To Order
Loudmouth say on their website "logoed tote bags, keychains, pens, coffee mugs…yawn". Yawn indeed. Loudmouth extends its "made-to-order" product lines with offers like having pants designed with your own logo.
The large made-to-order component of their business means that they'll always have your size. It also means that it may take three weeks to reach you, and yes…made-to-order is much more expensive.
Shipping
Shipping costs are calculated at the checkout time and vary depending on location and how quickly you want your clothes delivered. Made-to-order clothes will take up to three weeks and you can't pay to make that faster. They just take that long.
The Canada, UK, and Australian websites can only ship domestically. If you have a shipping address that is not in those countries, then you cannot complete the order. Only the U.S. website can ship internationally.
Customer Service and Returns
Loudmouth have a 45-day return policy with free shipping, with the usual requirements. Made-to-order clothes can only be returned once, and then, only in exchange for credit.
There is a free customer service hotline if you have any issues.
Conclusion
Loudmouth is not a bargain retailer by any stretch. It's not high fashion either. They produce quality clothes at appropriate prices, run a solid customer service and operate in their niche market. If you buy from Loudmouth, you'll be noticed whether you want to be or not (but we figure you wear Loudmouth because you DO want to be noticed).
Good luck and we hope to see you on the golf course!