Penny Na'me is a guest contributor for Stay Home Shopping.
Neither stayhomeshopping.com nor Penny are affiliated with or receive any compensation from any of the companies mentioned in this article – including Groupon, World Ventures and Hotels Combined. Opinions expressed in this article are hers alone.
———–
Editor:
This article was written a fair while ago and we make no claims to its accuracy. Our wonderful staff writer, Penny, has now moved on to greener pastures and we wish her well. We are keeping this article posted because it still attracts many readers.
We believe it still remains a useful resource about World Ventures. Most comparable articles are either written by representatives of WV trying to pitch their business under the guise of 'independence' or are unashamed critics of all MLMs. We are neither.
Unfortunately we won't be pursuing requests for price comparisons and the like and we offer apologies to those who have contacted us about this. You are, of course, free to add comments and these will be published (unless they're offensive or spam).
————–



ce)
Amazing cruise specials
Discounts on things you do every day
Loyalty program
with Platinum offering extra features such as hotel upgrades, access to exclusive trips and advance access to all trips.
Now, while WV run a number of "Dream Trips" which are group adventures from what I understand, that doesn't really fit in with the type of travel I like doing. Working my own hours and taking leave when I like, I usually look out for last minute bargains and can disappear somewhere exotic for 4 or 5 days several times per year. In the last 12 months I have spent 15 nights in hotels all up.
It's why I'm such a huge fan of Groupon whose Getaway section always has massively discounted hotel and vacation packages. The downside to Groupon is typically the requirement to travel at inconvenient times or seasons – but that's never a problem for me.
Every time I use Groupon for travel I do a quick price comparison to check out its value. This is actually very easy to do when the Groupon is a for hotel accommodation because you can quickly check the price across hundreds of different online travel agencies simultaneously by using a hotel meta search engine like Hotels Combined.
For example, at the time of writing Groupon were offering accommodation at the best Western Antlers in Glenwood Springs, Colarado for $59 per night.
A quick look through Hotels Combined for the same hotel shows that the cheapest price available is $90 per night, with some agencies charging as much as $122 for the same room.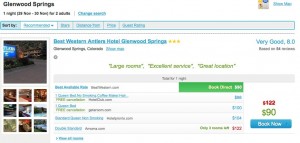 World ventures uses ROVIA as its booking engine. The same hotel came up priced at $82.41, which is cheaper than the best price Hotels Combined could find, but was not as good as Groupon.
However this is not a true comparison because WV members receive discounted rates from ROVIA (and anyone can book using ROVIA anyway) only I couldn't find out anywhere what that discount would be. (My 'friend' had long since disappeared in disgust at me before I could ask her).
Not everyone has the flexibility or desire to use Groupon Getaways, so I have tried to work out what discount WV membership would need to provide to justify the cost of their membership.
Last year I spent 15 nights in hotels/motels in USA and Mexico. Sure, I paid less than most because of my use of Groupons, but, at full price it would have been around $150 per night (Mexico is cheap). That's $2250 plus about $1000 in flights.
WV gold membership costs $660 per year, so, according to my basic math, WV would need to provide a discount of about 20% off to be viable – and then, that only lets me break even.
Note: all membership fees paid can be used as credit towards a Dream Trip, making these types of holidays the best value when joining World ventures.
Do they? I really wish someone from World ventures could give me that answer straight. I would be surprised.
Of course, many people might spend considerably more money on travel than I do, in which case the discount need not be nearly as high to be of value. Equally, I could refer four others and pay no membership fees. However, I'd still need to be able to first justify the value of paying the membership to my friends before I could expect to refer them.
I suspect also, that WV's best deals are for the group "You Should Be Here" Dream Trips, where they can genuinely bulk-buy the arrangements, If you can put up with a holiday like that, then maybe you'd find good value in a membership.
I'm happy sticking to my Groupon holidays for the moment. And if I want to make money, I'll probably just invest in bitcoin!
UPDATE (MAY 2015)
EDITOR:
Since publication many have contributed their opinion about World Ventures. We have deleted the most offensive and inappropriate comments but will continue to publish commentary that is respectful. Please be civil!
I have allowed osiforo's original comment about the numerous awards ROVIA have won so please don't repeat that. Your posts will be deleted.
PENNY NA'ME:
There were some things I didn't know when i first wrote this review, including the capacity to use WV membership fees to offset your Dream Trips. This obviously makes a difference and makes membership far more attractive. Thank you to Stan, Nakia and Chantel (who only just posted as i wrote this) who have helped explain the benefits.
At Stay Home Shopping we don't evaluate business models, only products.