ASOS.com is one of the largest and most successful international online fashion and beauty stores. Established in the UK in June 2000, the company's phenomenal growth has seen it expand throughout Europe, North America, Asia and Australia. Their website attracts more than 20 million unique visitors a month and in 2013, they turned over more than $US1billion in sales.
Product Range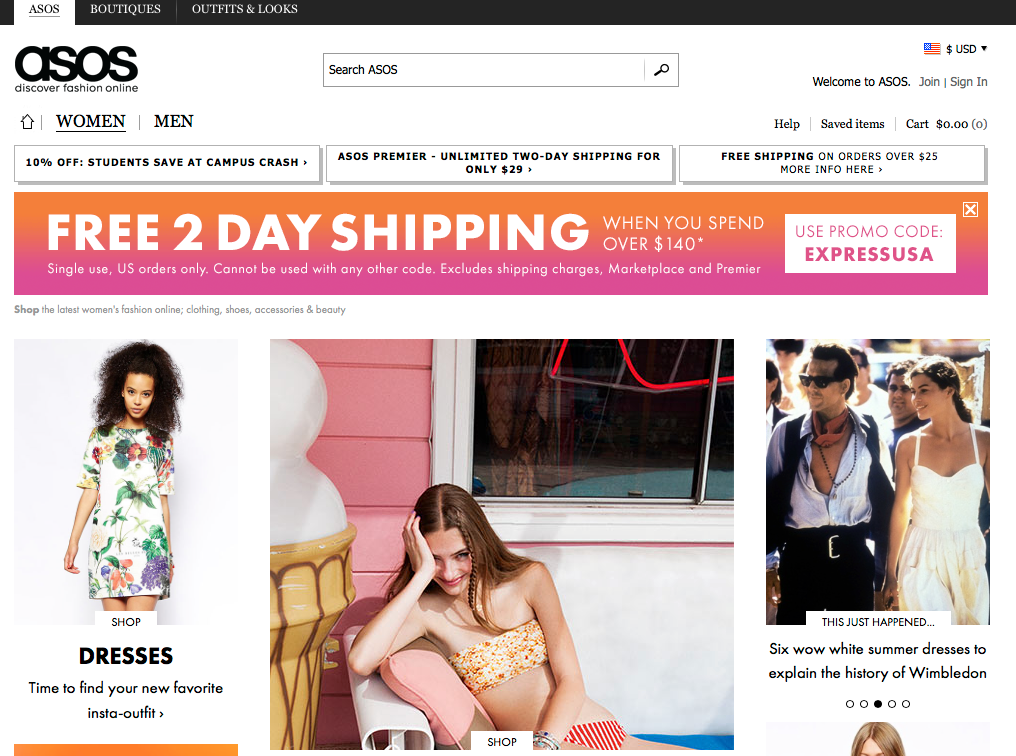 ASOS boast over 65000 branded and own-label fashion and beauty products aimed largely at the twenty-somethings market.  The product list includes clothes, shoes, jewellery, handbags and other accessories and they retail brands such as French Connection, Miss Sixty and Betsy Johnson.
Navigating the Website
ASOS operate nine local language websites; UK, US, France, Germany, Spain, Italy, Australia, Russia and China.  Through these sites they distribute to 234 countries and territories worldwide.
With the huge product range the website can be daunting but there's a few neat features to the site that makes shopping lots of fun.
For example, shoppers can search for styles by celebrity –
And once you've found an item you like, you can push the "click to view catwalk" button (see left) and see it modelled in motion. A warning, though: music will likely blare out at that point, so if you're somewhere where that might be a problem make sure you turn the sound on your computer down.
Shipping

ASOS provide free shipping worldwide for "standard delivery" for purchases over $25 (USA). If you're in Europe the threshold is even lower. Extra charges apply for express delivery.
Discounts and Memberships
Shoppers can access a number of discounts with ASOS.
Students are entitled to an across-the-board 10% discount. In the US, students must register with Campus Crash, in the UK with myunidays.
ASOS Premier is a subscription service that provides its members with unlimited express delivery, early access to sales, free unlimited returns and other benefits. Prices vary from country to country, with the UK membership priced at a very modest £9.95 per year.  USA membership is $29 per year. It's easy to see how anyone who orders from ASOS more than once could easily get value from this membership.
Coupons are also available from time to time. ASOS also hold regular sales.