Ralph Lauren was founded in 1967 and is a US-based company that designs, markets and sells its high-end apparel, fragrances, home furnishings and accessories worldwide.
Ralph Lauren Product Line
While Polo remains its flagship brand, the Ralph Lauren Corporation also manages other brands including Ralph Lauren Black Label, Ralph Lauren Purple Label, Ralph Lauren Blue Label, Lauren Ralph Lauren, Club Monaco and Chaps.
Website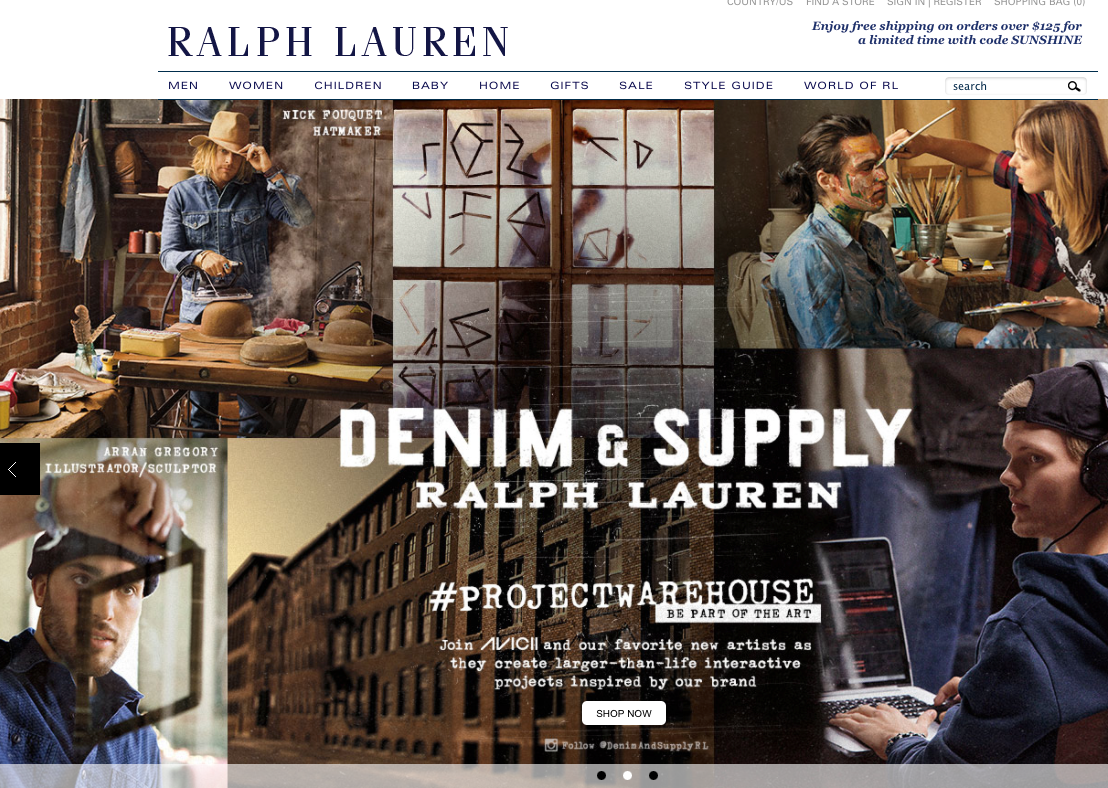 The website is designed beautifully as befitting a high-end designer. There are great photos, videos and even music which loads on various pages.
We couldnt help thinking that if you didn't have a good internet connection and had to wait for each page to load, then maybe Ralph Lauren wasn't ever supposed to be for you anyway.
Individual product photos can be "zoomed" in on for a better view, but there are no customer product reviews.
At checkout, you'll be given the option of other related products on sale. When we went through to checkout to purchase a BOYS hoodie, we were given the option of a BOYS novelty cotton polo for $22.50 instead of $55. We quickly checked to see if the sale price was normally available or only available after reaching checkout. Kudos to Ralph Lauren. The 'sale price' is generally available and the offer seems genuinely welcome rather than a "would you like fries with that?" sort of thing.
Shipping

Standard ground shipping within the US is an $8 flat fee. (You can get a cheaper rate of $5 per address if you have multiple addresses.)
2-day business is $20 and next day delivery is $25. Of course there are some limitations on the physicals size of your order, so please check their shipping rates here.
Free shipping is available for orders over $195. At the time of this review, a promotion of free shipping for orders over $125 was in play, so keep an eye out for any shipping specials/coupons available.
International
Ralp Lauren does not ship internationally but has stores all over the world. You can search for one here.
Customer service and returns
Return-paid shipping labels are included with all sales. Returns are limited to 60 days or 30 days for sale items. As with all standard returns policies, you can't wear (beyond trying it on) or certainly wash anything and then expect a return.
Conclusion
Ralph Lauren has successfully embraced online shopping with a website that oozes all the class of their products. Click on the logo below to start shopping: