FragranceNet is the world's largest online-only retailer of brand-name fragrances, bath and body products, gels, candles, hair care products, powders and soaps. While based in the US, FragranceNet have established a worldwide market due to their capacity to provide large discounts that still undercut local suppliers no matter where they are.
FragranceNet Products
FragranceNet directly sells more than 5,000  products from over 80 different suppliers. Approximately three quarters of sales are made with inventory purchased in advance of sales, while a quarter of sales are made with inventory purchased by the Company when a consumer buys it and has paid for it.
Brands on sale include designer names Ralph Lauren, Christian Dior, Hermes, Nicole Miller, Yves Saint Laurent, Oscar de la Renta, Fendi, and others.
Prices
There probably isn't a better example anywhere of how an online shop can deliver discounts to its customers because of its business model. Some of the discounts are as high as 80% and that's before using coupons.
Stayhome Shopping did a quick price comparison and found CREED Millesime Imperial 4oz selling for $330 at Neiman Marcus compared to $175.19 at FragranceNet – and that was before a 20% coupon discount available at the time. We looked at Dolce & Gabbana "The One" shower gel. MACY's and Neiman Marcus are selling it for $41, while it retails for $27.19 at FragranceNet – once again before discounting.
Of course, the savvy home shopper is always advised to do their own price comparisons but we were certainly pleasantly surprised that the first two random products we looked at carried such heavy discounts.
Are FragranceNet products real?
The massively discounted prices leads some to question whether FragranceNet are passing off fakes. Despite some claims by some disgruntled customers on the net, Stayhomeshopping was unable to find any credible evidence that their products were anything but genuine.
FragranceNet.com
The web address is FragranceNet.com.
You will immediately be prompted to register if you haven't already. Registering opens up access to further discounts (at the time of writing, that was 20%) and puts you on the mailing list for coupons. When you register, you can set a reminder to arrive in your email inbox say, two weeks before any birthday or anniversary. One customer commented online that she had registered under her husband's name – with his email address – and set reminders for her birthday and their anniversary. Neat trick! Once on the site you can search by price, product name or brand and type of scent.  Within seconds following every order placed with FragranceNet, the Company sends an e-mail confirmation detailing all aspects of your order. There are also live customer service representatives available to answer questions you may have either about your order or about a particular fragrance.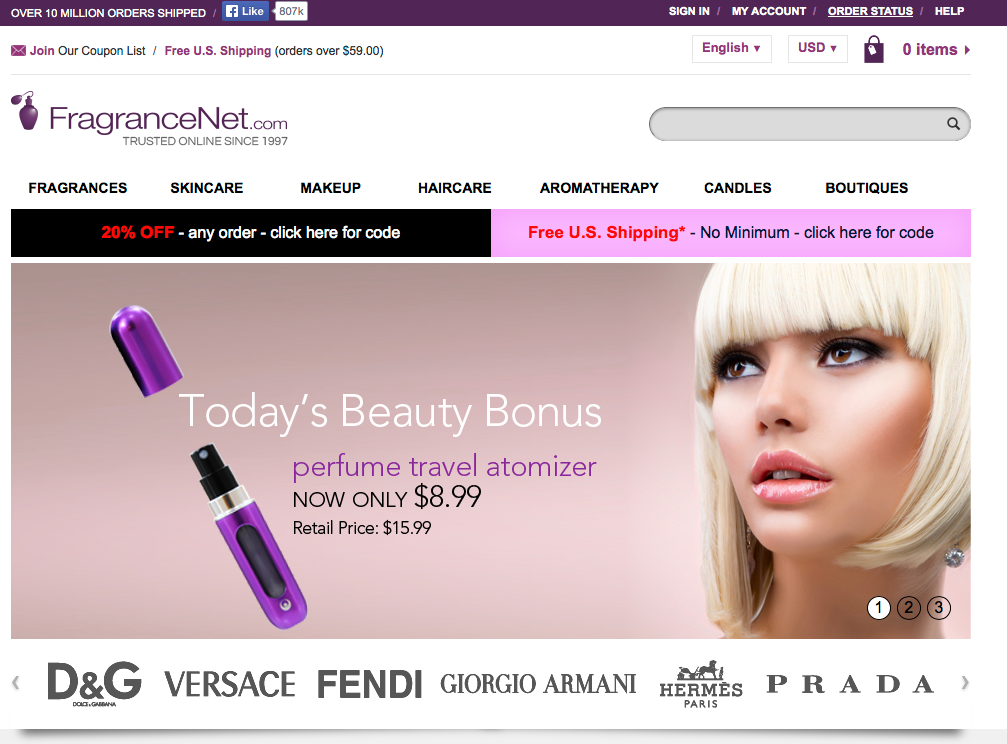 Shipping
FragranceNet offer free US shipping for orders over $59 but with the use of readily available coupons, you can score free shipping for orders less than that.
International shopping prices depend on destination. UK orders are distributed via Royal Mail within the UK for their local distribution center.
International shipping will not be fast. If you're in, Australia, for instance, you should not expect to receive your products earlier than two weeks after ordering. Some have reported waiting up to four weeks for delivery.
Around 25% of FragranceNet sales are made outside the US, demonstrating that even with the extra shipping costs and times, they still manage to deliver value.
Customer Service, refunds and returns
FragranceNet boast that their returns are 'Hassle-Free'.
Unopened merchandise (except Skincare and Haircare items) can be returned in its original condition, including original packaging and packing slip within 30 days of receipt for a full refund less shipping and any gift wrapping charges. There is a 20% restocking fee for any merchandise not returned in its original condition and packaging. Any shipping cost incurred to return the product is not refunded. The shipping cost is non-refundable for undelivered, unclaimed or returned packages, unless FragranceNet actually made the error. No refunds or exchanges are offered for Skincare or Haircare items due to health reasons. Despite the claim to be 'hassle-free' , refunds and  returns are always a hassle. Stayhomeshoppers are, as always, advised to make their selections carefully.
Deals, Discounts and Coupons
Even with their already heavily-discounted prices you should always keep an eye out for coupons.
Here's some you can use:
Find Great Holiday Gifts for Everyone on Your List at FragranceNet.com! Free Shipping on All Orders !  CODE: DAD50
Find Great Holiday Gifts for Everyone on Your List at FragranceNet.com! Free Shipping on All Orders !  CODE: LS2014 Best of luck and never pay full price again!