Nike, Inc. is an American multinational corporation that designs, develops and manufactures    footwear, apparel, equipment, accessories and services. It is the largest brand involved in sports business with the company famous for its lucrative marketing contracts with sports stars throughout the US and the world.
In addition to their own brand, Nike operates Nike Golf, Nike Pro, Nike+, Air Jordan, Air Force 1, Nike Dunk, Foamposite, Nike Skateboarding, and has subsidiaries including Brand Jordan, Hurley International and Converse.
Although Nike is predominantly a manufacturer, they operate their own retail store – Niketown.
Website

Rewards Program

Customer Service & Returns

Shipping
Summary
Nike branded products are readily available through many retail online stores so shoppers should carefully consider which is the best outlet from where to buy your Nike product. Buying Nike direct ironically may not always deliver the best price, but will certainly provide the largest variety particularly when taking advantage of customizations.
Website (4/5)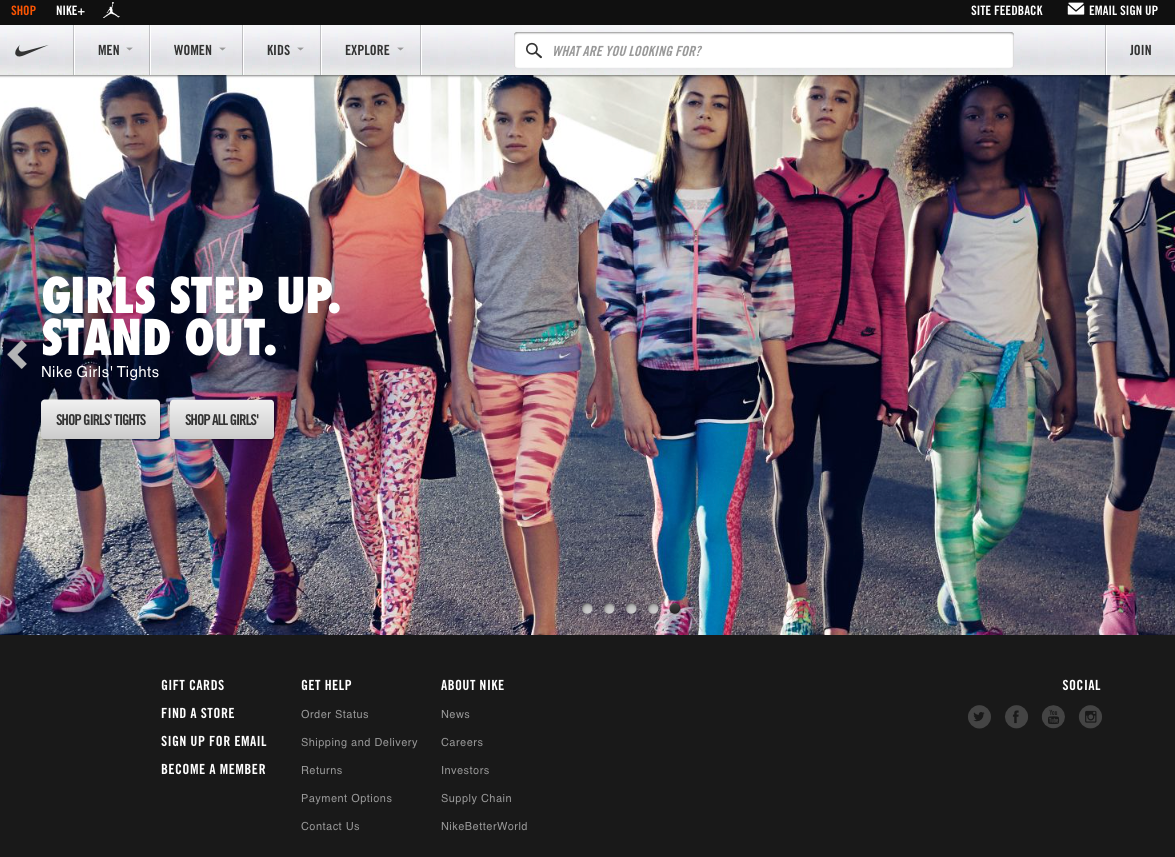 Nike.com is a quality website with some cool though common features to make shopping fun, including 'zoom' on product photos for a close up look and customer written reviews on products.
We really like their customization tool available for certain products. We looked at Men's basketball shoes – the Kyrie 1 id – and found we could change not just the general color, but also the color of the mesh overlay, choose the outsole, add speckles and even personalise them with our own name or message.
Nike membership is not really a rewards program but seems simply to be a way to harvest your email address.  Nevertheless, membership is free so there doesn't seem to be any reason NOT to take up membership.
Members get:
Access to exclusive releases and limited products.
Free returns on all your Nike.com orders.
Complimentary shoe trials, pant hemming and more in our Brand Experience stores.
Nike+ services, benefits and promotions.
Customer service and returns (3/5)
Given that Nike Membership is free, all customers have effective free returns through pre-paid shipping labels. Returns are usually valid for 30 days though promotions and special products may carry different returns policies.
Customer service reports vary but Nike.com has received its fair share of criticism for its practice of falsely stating inventory levels, particularly at busy times like pre-Christmas.
If a website states that a product is available and a customer buys it – in our opinion – it should actually be available. Nike are hardly Robinson Crusoe in this regard but it's a practice Stay Home Shopping abhors
Shipping (2/5)
Standard ground shipping starts at $8 with free shipping available on orders of $75 or more. As per usual, deals are often available during sales and by using coupons.