Cloncom.com is one of the biggest calling card companies in the business. Cloncom.com, formed in 2002, is the US wing of tarjetastelefonicas.com, a subsidiary of Latin American Technology Company Fnbox Ventures, Inc.
Cloncom.com is a reseller that markets prepaid phonecards for several 3rd party telecom carriers, including IDT, NobelTel, Primus, and Vectone. As with most calling card resellers, these carriers are lesser known 2nd and 3rd tier providers and/or international VoIP carriers. Such carriers generally provide perfectly good voice calling service while charging much less than Tier 1 carriers such as AT&T or BT.
There is a large variety of cards and plans available but a simple search features brings up four recommended cards which you can then more closely examine the fine print regarding the cost per call etc
While we found parts of the site a little clunky to get around, especially with a confusing use of multiple urls (e.g. the about-us section talks about recarga.com, which is a different company owned by the same people), the basic search is simple and clear.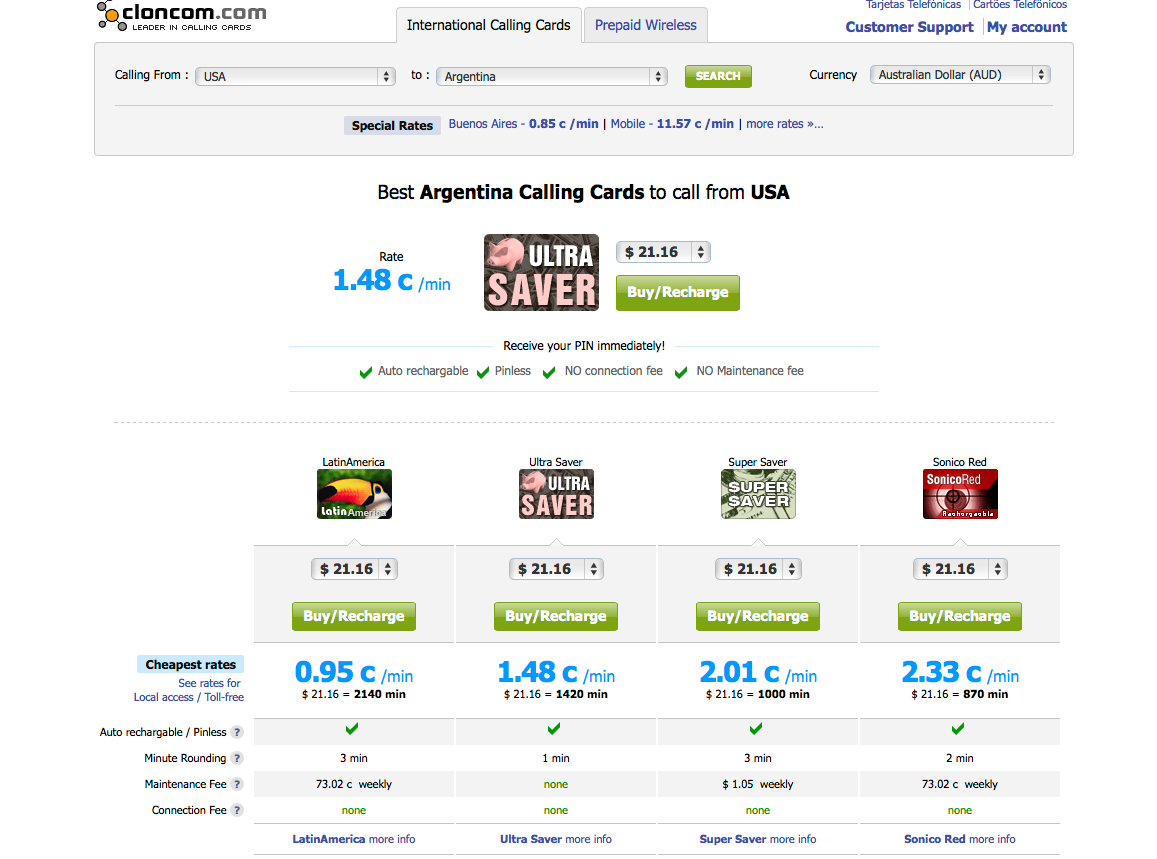 We tested the cards and had no issues with connections.
We've read some online complaints revolving around the (optional) automatic top-ups.  As always, Stayhomeshopping recommends that you avoid activating automatic top-ups until you're familiar and happy with the card and the company.
Here's our summary of cloncom.com:
| | | |
| --- | --- | --- |
| Prices | | Cloncom remains competitive across all markets but is especially well-priced with phone calls to, from and between countries in Latin America. |
| Variety of cards | | There are plenty of options to choose from. |
| Full disclosure of rates and fees | | Rates and fees are easy to read and understand. Take careful note of which cards have activation fees and which don't. |
| Website usability | | Even though the site is not particularly spectacular and badly in need of an asthetic overhaul, its basic functions are still good.  The site probably needs to make it clearer what the relationship is between cloncom and some of the links on the site. The link to "Prepaid Wireless"  sends the user to recarga.com, another FnBox subsidiary. Recarga.com is a much nicer looking website. |
| customer support | | Varies depending on the card purchased. Phone support available for most. |
| Reputation and/or complaint history | |  see note above |
| Exchange and Refunds | |  only at the discretion of customer support |
| | | |
| | | |
| | | |
Click here to see current prices for Cloncom Calling Cards
Click here for a review of callingcards.com
Click here for general tips for buying calling cards