TOMS is a California-based for-profit company with a very distinct social and business model. When Toms sells a pair of shoes,  a pair of shoes is given to an impoverished child, and when Toms sells a pair of eyewear, part of the profit is used to save or restore the eyesight for people in developing countries. Stayhomeshopping.com takes a good look at TOMS to see if the products are as sound as the philanthropic side of the business.
Products
When TOMS Shoes founder Blake Mycoskie was volunteering in Argetina he noticed the locals wearing a type of shoe made of canvas or cotton fabric known as an alpargata. It is that type of shoe that TOMS shoes has reproduced, with slip-ons and lace-up versions catering for men, women and children.
In the last few years, TOMS has also manufactured and sold eyewear, and more recently coffee.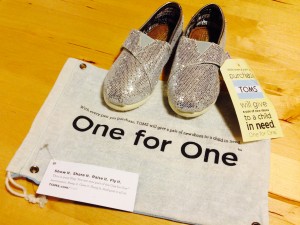 Stayhomeshopping ordered a pair of Silver Glimmer Tiny TOMs, a flat shoe for kids. It cost $38.
The packing is simple but impressive – a cotton  bag with the TOMS logo.
On the flip side of the bag the TOMS motto of "One for One" is prominently displayed.
The shoes themselves look good, but to be honest, feel a little cheap. The price tag does cover two pairs of shoes (with the one being given away) so it's easier to understand the pricing then.
The seven year old recipient of these shoes finds them comfortable and loves wearing them all the time. They're certainly trendy too, judging by the number of comments from his friend's parents.
We don't suspect they'll have a particularly long life, but then, as kid's shoes, they never do anyway.
For adults, the longevity of the shoes is more likely to be an issue, but would still look good as part of your shoe collection.
Toms Shoes Website
TOMS has a very clean and slick website that's easy to navigate and with lots of great images and stories from their philanthropic endevours.
Each product carries a large number of customer reviews on the site, so you can check what others are saying before you buy.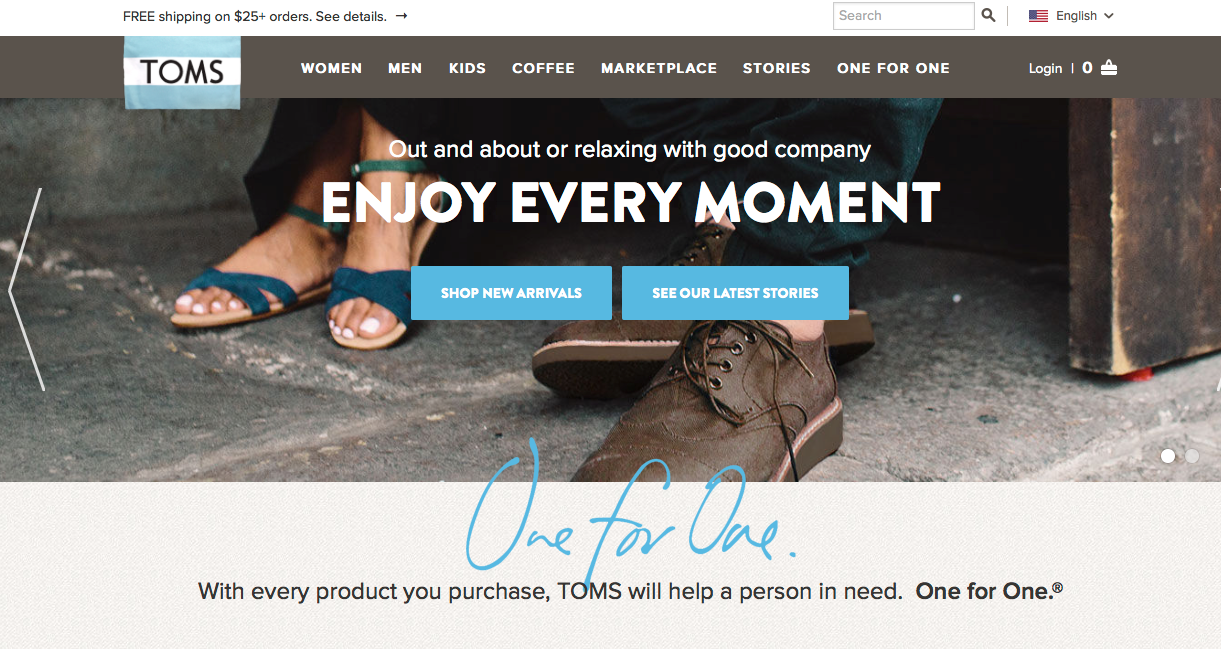 Shipping
US domestic shipping is handled by UPS. Shipping rates vary and there are regular coupons and special offers that include free or reduced shipping costs. At the time of this review, free shipping was being offered for purchases up to $25, which is a really low threshold for an online shopping company.
International
TOMS does not ship internationally except to Australia.
However, TOMS has international websites to cater for those from some countries:
For Canada, visit TOMS.CA
One For One
Fundamental to TOMS is its ONE for ONE concept whereby for each pair of shoes sold,  another pair is given to an impoverished child. As a marketing concept, it's brilliant, allowing shoppers to feel that they're doing something good while purchasing some very trendy shoes. 
While the concept has been the subject of some criticism , TOMS has more generally been recognised as a leader in mixing business with philanthropy, otherwise known as social entrepreneurship.
Conclusion

Stayhomeshopping is delighted to recommend TOMS from a product and online company perspective with the added bonus of supporting a company that really is putting its money where its mouth is.