Sears is the fourth-largest American department store chain and the 12th largest retailer in the United States. It's sister company Sears Canada (51% owned by Sears Holdings) operates Canada's largest online retail website sears.ca. Information on the Canadian website is at the bottom of this review.
Background
Sears, Roebuck & Company (Sears) was founded in 1893 as an innovative catalog mail-order company.  By the 1950's Sear's operations had shifted to its local department stores operating in nearly every US city.  Having been bought out by Kmart in 2005 (and renamed Sears Holdings), Sears has returned to its roots and embraced online shopping through its shopping portal Sears.com which now attracts around 240 million visitors each year.
Sears Online Products
As a department store, Sears offers a huge range of products. Perhaps more so than its competitors such a Macy's and JCPenney, there are an extensive range of tools,  outdoor living and garden, appliances, and home improvement goods. This is in addition to more common department store products of things like clothing, shoes, jewellery and beauty products.
Sears.com website
The website can be found at sears.com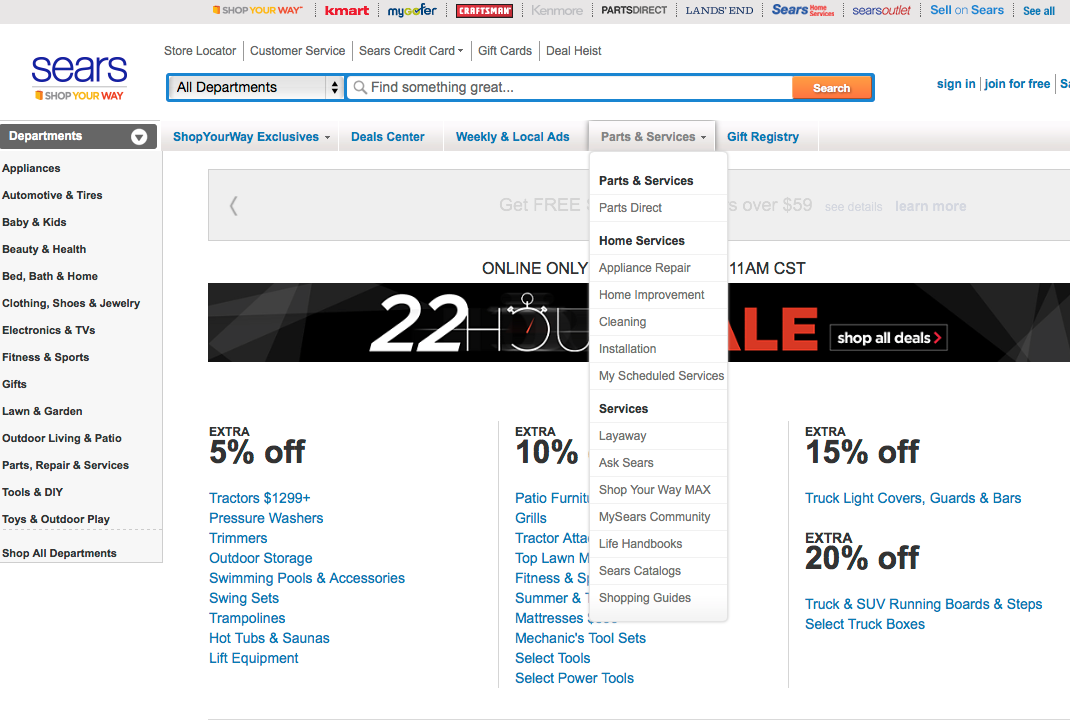 It's not our favourite website by any stretch.
For example, finding information on shipping for this article was frustrating until we used the search feature.
However, there's lots of customer product reviews, and some really good detail about things like how to return or exchange a product.
Discounts, coupons and the Shop-Your-Way Rewards Program
One of the advantages resulting from KMart's purchase of Sears in 2005 was the ability for the new company (Sears Holdings) to cross-market and ultimately benefit consumers. The 2010 launch of the Shop-Your-Way Rewards Program is the most obvious manifestation of this.
With Shop-Your-Way, consumers can earn rewards on all purchases made at Sears, K-Mart, Land's End at Sears, sears.com, kmart.com and mygofer.com. Bonus rewards are offered during various promotions throughout the year and reward points can be redeemed at all of the above stores.
There are additional member benefits.  As of July 2014,  upon joining you'll get "90 days free 2-day shipping" or, for those wanting to pick up goods purchased online you can "pick up your purchases at any Sears store within five minutes of arrival without ever leaving your car." Sears members also get access to exclusive coupons for further discounts.
Sears continues to offer a large array of general coupons, sales and discounts but is understood to be transforming the company into a more member-centric retailer.  Last year Sears indicated that over time, points and other Shop Your Way promotions will replace some traditional advertising programs with concern within the company about 'duplicative discounting' which was impacting on profit levels.
Savvy home-shoppers considering purchasing from Sears should join Shop-Your-Way and look for coupons and sales while the company is still honouring both.
Shipping
Shipping charges are not made explicit and the delivery charge is only displayed at checkout. Having said that, many goods that stayhomeshopping tested turned out to have free shipping. These tended to be higher priced items. Sears delivery is available for most large-sized items such as refrigerators, microwaves, mattresses and dishwashers, though certain products and brands may have to be delivered at extra expense through oversized shipping.
There is also a "haul away" service for $15 where you can get rid of the same product as your buying. For example, if you buy a new fridge, Sears will pick up your old one for you at the same time. That's a pretty neat service, in our opinion.
With so many stores nationwide, many people choose to pick up their ordered goods in person. Sears and Kmart have now expanded their free in-store pickup program for orders placed online. So if you place your order at Sears.com, you can pick it up at a physical Kmart store, and vice versa. 
International Customers
Sears ships to 101 countries worldwide, with payment in local currencies by credit card and PayPal.
Customer Service, Returns and Exchanges
Sears state that their goal is that "you are completely satisfied with your purchase. If for any reason, you are not satisfied, simply return your purchase in its original packaging with your original receipt for a refund or exchange."
In practice, returns are limited to a (generous) 30 to 90 day limit depending on the product. Free return shipping is available only when the goods purchased are damaged or the wrong product has been sent. Fair enough.
Sears Canada
Sears Canada has a different corporate history to Sears and operates a largely independent business, even if the product lines are quite similar.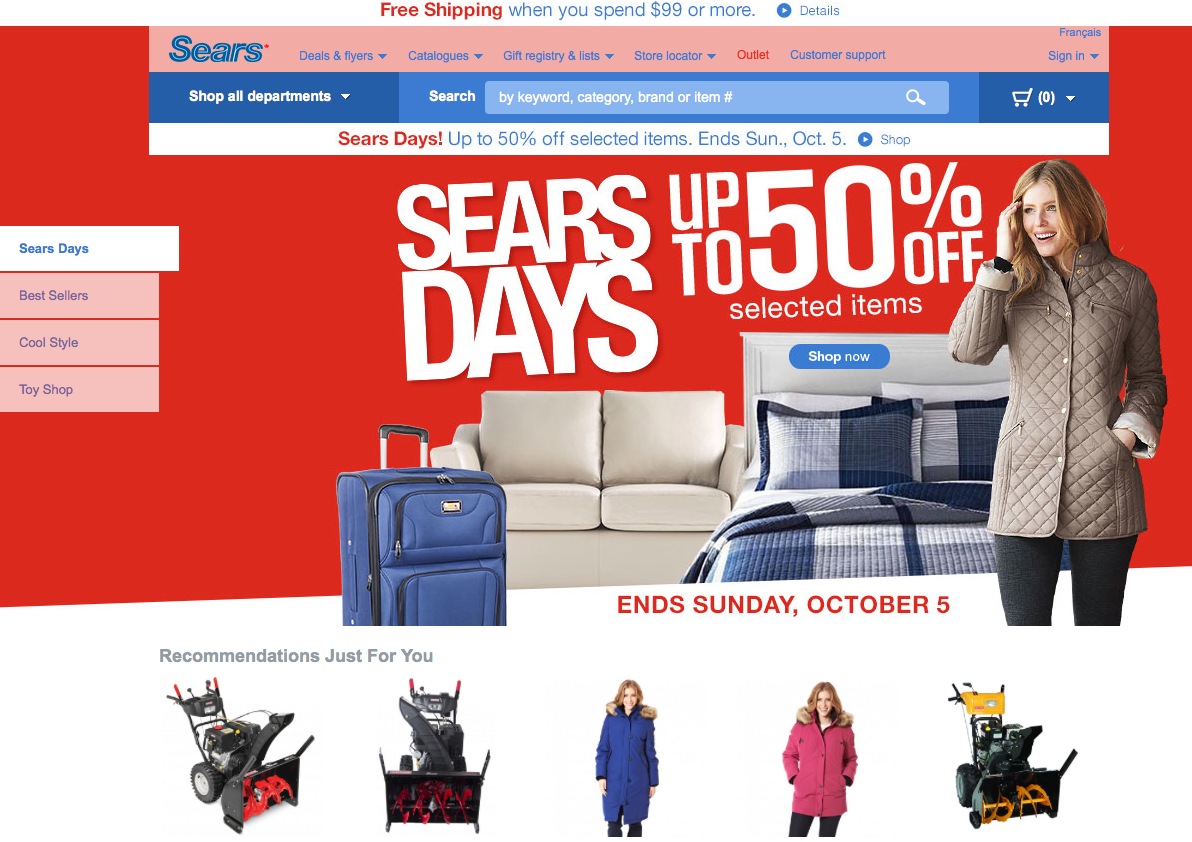 That means that shipping costs, rewards program and return policies can differ. For example, Sears Canada offers free shipping (within Canada) for orders over $99. There is also no rewards program.
Stayhomeshopping will separately review Sears Canada in the future but Canadian readers are advised to check out the site by clicking the banner above.
Conclusion

Sears has managed to use its natural advantages as a department store chain, and as part of a retail conglomerate, to maximum effect through its online store.
Click here to shop at Sears.