A dodo is an extinct flightless bird and I've always wondered why it was chosen as the name for a business operating in new technology – and back in the mid to late 2000's it looked like Dodo might actually follow in the steps of its namesake. In the early 2000's Dodo pummelled the living rooms of ordinary Australians with non-stop TV ads promising the cheapest internet connections ever.  In 2002 they were even offering $9.95 per month (dial-up) connections which were so much cheaper than all the opposition that it was easy to be sceptical about the long term future of Dodo.
It was hardly surprising to find out that Dodo had spent more money on TV advertising than back-end systems and that they generated huge numbers of customer complaints.
In 2013 Dodo was acquired by M2 Group Ltd (who also own iPrimus amongst other Australian Telco assets) for $204 million , along with their estimated 450,000 customers. This has placed Dodo in the hands of a stable, successful and fast growing Australian telecommunications company and bodes extremely well for its future.
In any case, by most reports Dodo had already turned their poor service record around  at least three years before this acquisition.
With the biggest millstone (poor service) removed from their necks, Dodo is now in the prime position to take full advantage of its continued price advantages over the major telcos.
Let's have a look at their current internet (ADSL 2+) "broadband unbundled" plans: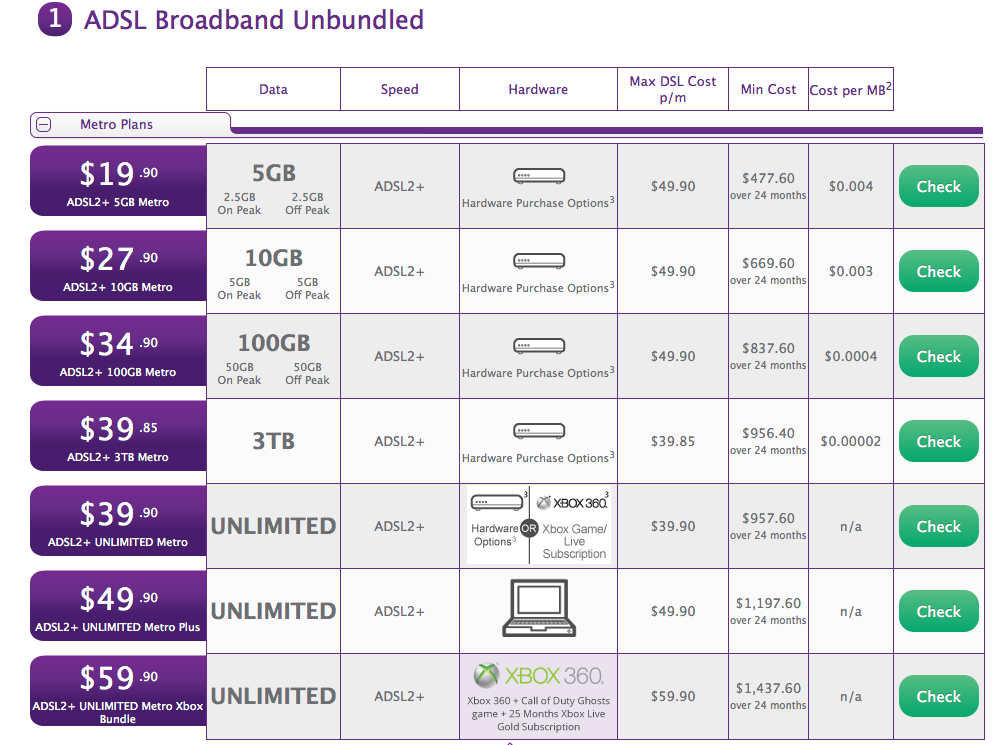 The entry level for unlimited broadband is what caught my eye. In fact it's staggering. The offer is:
Unlimited ADSL2+ only $39.90 p/m on 24 month contract. Min cost $957.60. Delivery charge of $24.90 applies or pick up from Dodo at 484 Clayton Rd, Clayton VIC.
(The $39.85 deal for 3TB, though practically unlimited for most users, doesn't include the Modem or Xbox games that the unlimited deal for 5c per month extra does. Figure that.)
On a 24 month contract it comes in at least $20 per month cheaper than its nearest rival (Ant Communications @ $59pm) and is so far ahead of the big boys (Telstra, Optus) that it rivals the kind of deals they were making back in 2002.
Dodo's other plans remain at the forefront of cheap pricing. Dodo offer an interesting variety of extras on certain packages. Fancy an Xbox or a Netbook included in your broadband? We're not totally convinced that these extras are such great value and you're advised to examine the costs of purchasing these products separately. However it's an innovative approach and Dodo should be congratulated for this extra value.
Interestingly, their NBN plans, whilst still on the cheaper side, are outdone by a number of other, albeit less well known, telcos. If you're close to getting an NBN connection you may wish to hold off signing a 24-month contract, but from experience, that NBN connection may take a whole lot longer than you thought.
Now that Dodo's service problems seem to be under control, their pricing simply wipes their opponents off the floor.
You can get more information from Dodo about this and other deals by clicking here.