Products

Website

Loyalty Program

Shipping

Refunds
Summary
An efficient and professional online store selling discounted name-brand goods.
Sierra Trading Post operate five retail "bricks-and-mortar" stores throughout the mid-west US as well as operating a catalog mail-order business and selling online.
Products
Sierra Trading Post retails seconds, overstocks and closeouts in categories like outdoor recreation and adventure gear, footwear, clothing and home decor. They carry sometimes heavily discounted goods from around 300 name-brand manufacturers.
Website
Sierratradingpost.com has been operating since a (relatively early) 1998 and attracts around 3.5 million visitors per month.
Shipping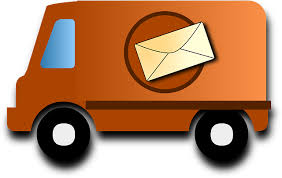 STP do not, as a rule, offer "free shipping" on their goods, as explained on  their website:
[feature_box style="8″ only_advanced="There%20are%20no%20title%20options%20for%20the%20choosen%20style" alignment="center"]
Some of our online competitors offer 'free' shipping. But is it really free? The fact is, all companies incur shipping costs and frequently inflate the prices on their merchandise in order to cover those costs. We prefer a more straightforward approach. Our prices reflect the great deals we've negotiated, and our shipping & handling costs are clearly stated, not hidden. We believe in offering huge everyday savings (even after shipping & handling fees), plus best-of-class service. The trust of our customers is important to us.
[/feature_box]
This policy, if they're not being disingenuous, relies on them being explicit and transparent about shipping costs, which for the most part they are.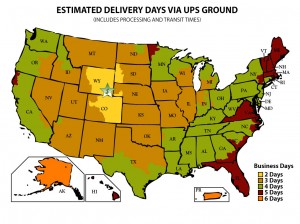 We really liked their UPS estimated delivery time graphic (see left).
It's a simple and useful tool that other retailers could easily employ on their websites.
Expedited and international shipping is available at extra cost.
Loyalty Program
STP operates their loyalty program through the TJX Rewards credit card.
At Stay Home Shopping, we're not very fond of loyalty programs attached to credit cards. They exclude the casual shopper and those without the necessary credit requirements – let alone all this people who just don't want another credit card in their wallet.  In-store credit cards also preclude the use of other cards and the earning of Air Points and the like.
Having said that, the JTX card looks pretty good.  Here's a summary of what you get:
[feature_block style="icon" overall_style="icon" columns="1″ icon_style="icon"][feature title="Free" icon="1.png" upload_icon="" bg_color="" href=""]
The card is free with no interest being charged if the balance is paid out in full before the billing cycle.
[/feature] [feature title="10%25%20discount%20on%20first%20purchase" icon="1.png" upload_icon="" bg_color="" href=""]
Your first shop with the card will attract a one-off 10% discount, not only at STP but at other retailers T.J.Maxx, Marshalls  and HomeGoods.
[/feature] [feature title="5%25%20effective%20cash%20back" icon="1.png" upload_icon="" bg_color="" href=""]
If you use the card at any of the four stores (including online), you will receive 5 points for every dollar you spend. When you get to 1000 points, you qualify for $10 store credit. This equates to an effective 5% cash back, which places it in the higher end of rewards programs. If you use the card outside of these stores, you will earn 1 point per dollar, for an effective cash back of 1%.
[/feature] [/feature_block]
Returns
Sierra Trading Post offer a generous (up to) 365 day return policy as long as the items returned are in a 'clean, sellable condition'.
[feature_box style="1″ only_advanced="There%20are%20no%20title%20options%20for%20the%20choosen%20style" alignment="center"]
Products returned within six (6) months of the order date will be refunded by original payment method

Products returned six (6) months or more after the order date will be refunded by merchandise credit

Make every effort to inspect items for fit, color, missing pieces or damage prior to use

Include all hangtags and original packaging where possible
[/feature_box]
A $6.95 return shipping fee will be deducted from your refund.
Perhaps the best part of Sierra's refund policy, however, is their Instant Store Credit. If you return purchased items within 10 days (in clean, sellable condition) then you will be credited straight away upon receipt of the goods with store credit to use within 60 days. This is much faster than a refund, and you will only be charged $2.95 for the return shipping cost – and will also receive your ordered goods for a discounted $2.95 shipping fee.
If, after 60 days, you haven't used all of the credit, the remainder will be refunded to your original form of payment.
Note that different rules apply to international returns and exchange and to products bought from third party 'Direct Ship'.