Do you have website or blog? If so, you can take advantage of affiliate marketing to monetize it. Even if you don't have a website you can still be an affiliate marketer. There are thousands of people world-wide making money doing this from the comfort of their homes.
Affiliate marketing is a type of performance-based marketing in which a business rewards affiliates for bringing customers or leads to them. Typically links or banners are placed in a website.  When a visitor to the site clicks through the link to a merchant's site and makes a purchase, a commission is paid to the website owner.
The banner below is a typical example of how affiliate marketing works. The advertisement is for the (excellent, if we may say so) affiliate marketing training program run by Affilorama (see below).  If you sign up to their program via this link, stayhomeshopping.com will receive a commission. Naturally, you're encouraged to do so!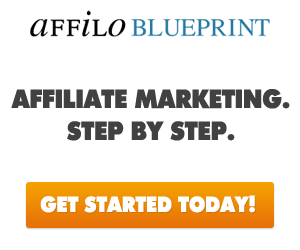 Some Useful Resources
How Does Affiliate Marketing Work?  by Affilorama
Affilorama is a New Zealand based affiliate marketing training company. This article and the accompanying video provide an awesome description of how it all works,  where the money comes from and how you can start earning straight away.
Rae Hoffman is an affiliate marketing veteran and the CEO of search engine marketing agency
Pushfire. This is a very easy to understand step by step visual guide.
Affiliate Networks
Affiliate networks act as  intermediaries between publishers and merchant affiliate programs. Most companies do not run their affiliate programs in-house, instead they outsource to an affiliate network, and often to multiple networks. 
They are useful for affiliate marketers to join because they can allow access to hundreds of different offers all from a single source.
There are many networks you can join, most if not all are free, but each network varies in its joining requirements, how it pays and how often, and, of course, which merchant programs it offers.
Through personal experience, stayhomeshopping.com recommends the following affiliate networks:
Peerfly offers hundreds of programs of various payouts. There are lots of email submits which is a handy place for newbies to start. Peerfly provides excellent customer service to its affiliates, and always pays on time, with the option (for a fee) of receiving payments early.
Neverblue has amongst the highest payouts on its broad range of offers. They also provide really good assistance for affiliates.
Flexoffers has an extensive list of merchants, including some well-known brands that are easy to promote.
Clickbank specialises in downloadable products and is one of the largest networks in the world.
If you decide to join one of these networks (using the referral links above) feel free to contact us at stayhomeshopping.com for any assistance with your application, with using the back office or even with running your first campaign.
Website Sales Funnels
Click Funnels is one of the best all-in-one all purpose sales funnels that will get you earning big dollars with affiliate marketing quickly.
Sign up here for a 14 day free trial.